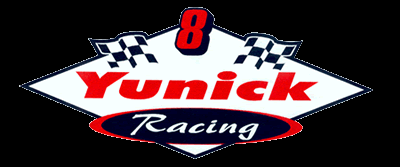 The following proposal for sponsorship has been designed to present a variety of opportunities through which your company will be able to gain access and visibility to a very specific market. Positive association and a diversity of exposure are among the many benefits possible as a result of this relationship.
We are seeking the sponsorship for Yunick Racing Inc. as we compete in the NASCAR All Pro 18 event series. With a sponsorship commitment and / or a modest monetary contribution, your company will be entitled to the following benefits:
I. Yunick Racing endorsement available for product
advertisement.
II. Sponsorís name/logo will be displayed on racecar and
tow trailer.
III. Company logo will be displayed on driverís suit,
helmet and crew shirts.
IV. Verbal acknowledgment and recognition of relationship
with sponsor will be made at all races and appearances.
V. Sponsor may display and/or distribute coupons;
brochures and other company related information at
the paddock area.