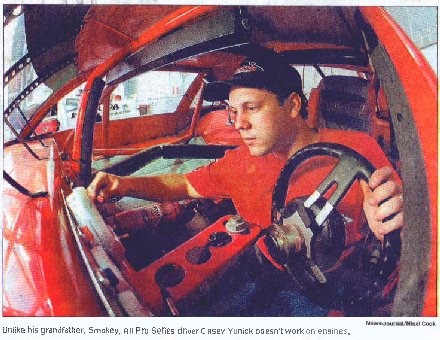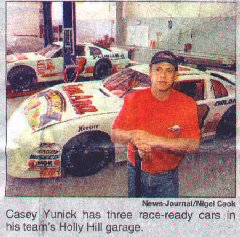 Legend's Son Returns Name to Racing
Yunick, a name legendary to the Daytona Beach racing community, is making an active and overdue comeback in NASCAR competition.
Casey Yunick, grandson of Hall of Fame mechanic Smokey Yunick is making a serious run in the Slim Jim All Pro Series, NASCAR's premier Late Model tour.
Smokey owned the "Best Damn Garage In Town" and won two Daytona 500s as car owner, engine builder and crew chief in the early years of the race. And the family is
now back in business on the track.
Yunick Racing is based at Smokey Yunick Jr.'s shop in Holly Hill and managed by Dick Anderson, fondly referred to as the "King of Florida Short-Track Racing."
"Adding Dick was one step we needed to be successful," said Casey, "Without him we'd be close, but we wouldn't be doing as well as we're doing right now. He really turned this program around. When he tells us something, it gets done his way. He runs the show."
Casey's inventory includes three race-ready Monte Carlos and four fresh engines, plus the know-how of his father and grandfather, and Anderson,
who boasts more than 900 short-track feature victories.
"My dad is full-time involved," said Casey. "My granddad, he keeps an eye on us. He advises us to do this or do that. He's definitely behind us. In the past he hasn't helped me too much because he wanted me to succeed on my own. Now he wants to help us some. He definitely has his eye on us and helps us when he can. He gets us a lot of product help."
Different approach
The Yunicks approached this season much differently than in previous racing efforts. They started putting this program together last season by lining up an enviable list of sponsors, including Lou Ana Cooking Oil, Florida Auto Auction, Orlando Action Auto, Masney Auto Transport and Prolong.
"We wouldn't be here without them," said the 25-year-old Casey. "We finally figured out we weren't getting beat at the race track, we were getting beat at the board room.
"I've been racing on and off most of my life. I've worked on all sorts of different race cars. I can build the race cars and drive 'em pretty well, but I wasn't good at marketing. That's what we zeroed in on this time around, and we found some decent sponsors."
Casey is running for All Pro Rookie of the Year honors and a finish in the top 10 in points in this ultra-competitive series.
"This is a tough series," he said. "They start 23 cars and about 25 of those guys have been racing Late Models for most of their lives. They're all Jack Cook and David Russel-type people. It's a tough series."
After three starts this season, Casey is 11th in points and running second in the rookie standings. He's coming off a top-five finish at Greenville-Pickens Speedway. His next start will come Saturday night at USA Speedway, a three-quarter mile gem located near Lakeland.
Casey's biggest supporter, his wife Shannon, will be in the pits. Shannon helps around the shop and keeps score on race day. "Shannon has been a great help," said Casey. "She has a lot of responsibilities with the team. It really is a team effort. There's so many little things that have nothing to do with that race car that go into this. You have to hit every little corner."
Long range goals
Casey has found that racing for a living and "Saturday night specials" are two different animals. His list of duties include a variety of clerical assignments, including staying up with the books and making travel plans for the team. "If I get to work on the race car before 11 o'clock in the morning I'm doing good," said Casey. "But this is a dream come true for me. We just never had the funding to do it right before this season."
Casey doesn't work on his racing motors, which was his grandfather's specialty. He delegates that task to two high-tech engine companies.
"People asked me about motors all the time and I'm not really a motor man," he said. "I'm really more of a fabricator and chassis man. I'm lost on motors. I build the car. I can do anyting with a race car, but I never touch the motor."
Casey is on a clear path and has a destination in mind. He hopes to someday race in NASCAR's elite division, the Winston Cup Series.
He plans to spend two years in All Pro competion with an eye toward either ARCA or the Busch Series for superspeedway experience.
"We want to go up the ladder pretty quick in the next couple of years," said Casey.
And to that end, Casey and Shannon plan the big move to Charlotte, N.C., in two years. Most of NASCAR's race teams are located near the Queen City.
"If you want to be a race car driver, you have to live in charlotte," said Casey. "That's just the way it is. We're going to race out of here through next year, then look at our options.
Article and Pictures courtesy of Daytona Beach, Fl. News-Journal 4-29-2000